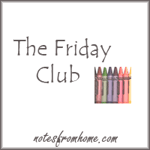 I wasn't very sure about entering this week's Friday Club Carnival..... when it comes to cleaning/organising things certain things in my house I have very specific methods for doing them (to the point that I will only do the washing up in a certain order and no one is allowed to use my special stash of pens as I hate it when they disappear!!). But I thought I ought to air one of my organisational habits...so here goes!!
Post is a big bug bear of mine. Not in the sense that I hate GETTING post......nothing could be further from the truth, I LOVE getting letters and parcels!!! I just hate piles of letters/junk mail/catalogues clogging up desk space or dresser space so here's what happens as soon as stuff comes through the door. It gets dealt with like this :
Bills – scrutinised, shouted about, paid, put in red "Bills" in the kitchen.
Important official letters – read very very carefully, any requests dealt with immediately , kept in red "important stuff" box in the kitchen.
Letters from friends or family – read with tea/coffee in hand, put in drawers above desk to be replied to at soonest opportunity.
Catalogues – plastic wrapper removed, put in plastic bag recycling thingy, if wanted put in magazine file, if not wanted put in paper recycling.
Parcels – opened, looked at, wrapping either put in box for reuse or in recycle bin
Junk Mail - gets immediately put into the paper recycling bin or given to my toddler to draw on if there are blank backs on the envelopes/letters.
I would go on and bore you with what I do to sort laundry but I think my mail obsessions are enough to send even the most hardened neat freak snoring in their "de-clutter your home" books.......he he J
Here are the other entries in this Organising Tips for the Home Carnival:
Make Do Mum posts
Organising for Magpies
Maggy at Red Ted Art posts
How to… make your own Scrapbook/ Artwork Calendar
Cass at The Diary of a Frugal Family posts
How To Be An Organised Mum
Jax at Making It Up posts her tips in
A place for everything and everything in its place
Helen at Cheeky Wipes posts her
laundry tips
Angela at Mum's Survival Guide posts
The Organised Side of Me: Paperwork
.
Ella at Notes From Home posts her
laundry tips
.